SpeedView for Google Android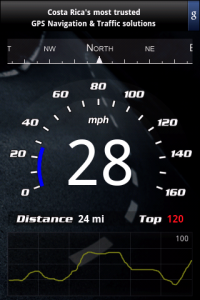 SpeedView is an advanced GPS speedometer that uses the phone's built-in GPS system to show your current and top speed, direction and distance traveled. Successfully tested using T-Mobile G1, Samsung Galaxy, Motorola Droid and Nexus One, it's suitable for running, car driving, biking or hiking.


High accuracy, GPS-based speedometer that is more accurate than the one in your car.
Linear compass, Shows your direction of travel. The compass screen is coming soon!
Speed graph, Displays a graph chart covering the last several minutes.
HUD mode, Mirrors the numbers so you can place the phone under your car's windshield and see the speed reflected on it in the evening or night.
Speed warning, You can set the speed limit, so when you go over a visual alert and red highlighting will notify you.
Display units, Supports units such as miles, kilometers and nautical miles.
Please note that the accuracy depends on your GPS reception quality.